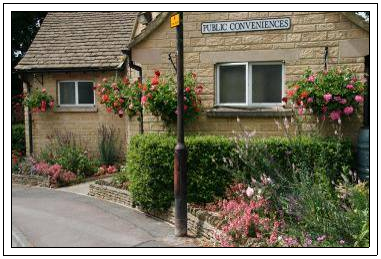 The West Street Public Toilets in Summer 2008
The West Street Public Toilet Project:
The beds at the West Street toilets had been planted years before the team got together in 2005 and a lot of the old shrubs were well past their best. In Summer 2007 it was time to give the toilets a long awaited makeover.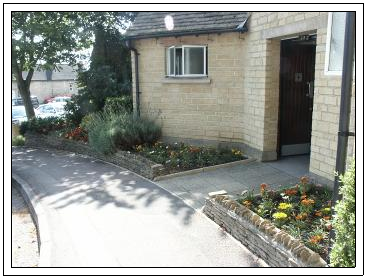 The toilet beds in Summer 2006
A lot of the original shrubs were cut back and tidied up and these formed a backdrop for the new plants. The purpose built building that the toilets are situated in looks rather like a small Cotswold Cottage so with that idea in mind, Sue Hirst our plant coordinator decided that a cottage garden affect would look quite suitable. Choosing plants such as penstemon, roses, diascia, linaria, heuchera, liatris, fuchsias and scabious all in a colour theme of pink, white, mauve and yellow, the beds took shape. Adding a few pink and white begonias and pink antirrhinums amongst the perennials finished the look and gave all summer long colour.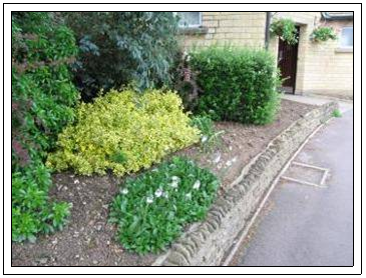 The toilet beds before we planted in Summer 2007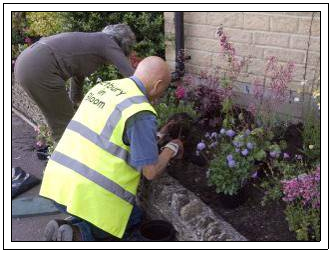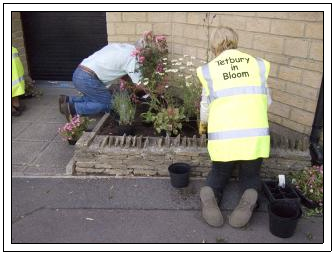 Planting up the beds
To finish the 'cottage look', six brackets were fixed on the walls and the building was adorned with hanging baskets.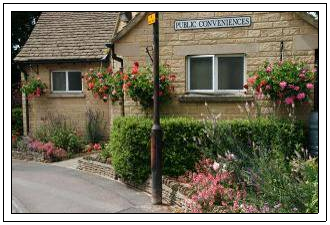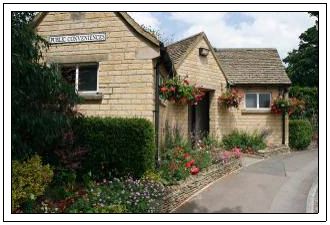 The award winning toilets in Summer 2008
Without us even being aware there was such an award, in 2007 the toilets won the 'Best Dressed Public Toilet' award from the British Toilet Association and then again in 2008 and visitors are often seen having their photographs taken outside—just as well we don't plant anything inside!!
Over the past few years we have added various sustainable plants to increase the sustainability and year-long interest in the bed. A yellow and green leafed phormium, which has done extremely well in the sheltered location , hardy fuchsias, heucheras and penstemon.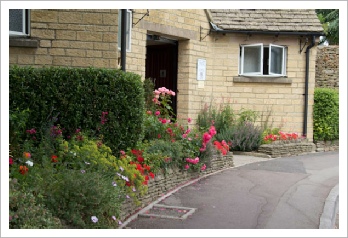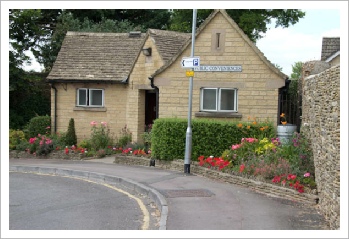 The beds in Summer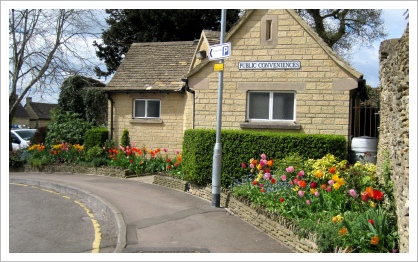 The tulip display in Spring
Just round the corner to the rear of the long stay car park is a grassy bank which we refer to as the' West Street bank'. In 2012 we planted 1500 daffodil bulbs of 3 different varieties so that the flowering period extended from February to April.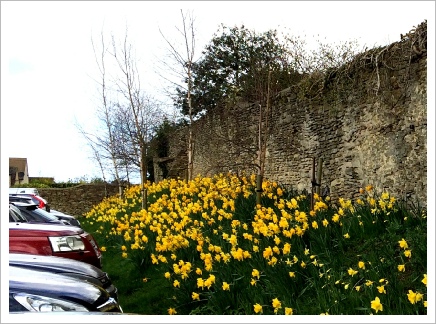 'West Street bank' in spring