Over the years, one of the ways we've been able to let people know what we are doing, is through a regular article in the Tetbury Advertiser - a free monthly magazine (excluding August & January) published by The Lions Club of Tetbury.
For 12 years Liz Farnham, now a former member of Tetbury in Bloom, wrote every one of the articles, but in December 2018 she, and her husband Kevin, who also designed and created this website, decided to retire from the organisation.
However, both the articles and website still continue, now written and updated by Sue Hirst, Tetbury in Bloom's team leader.

Hover over the Newsletters button on the left to find previous years' articles.
2020 articles are shown below with the latest on top ….
February 2020
Winter holds two of my most favourite days - 21st December when the nights start to draw out and 1st January when Christmas is over with and I can see the entire new year stretching out beyond. Although the weather normally gets worse before it gets better, I know it's only going to be a short time before the lighter evenings and the first signs of spring become apparent!
With that said, here we are in February already, with the early crocuses and daffodils, hellebores, snowdrops and cyclamen now starting to come into flower. They herald the start of Tetbury's nine month long flowering season which will continue right through to the first frosts again in November.
Plans have already been put in place for the summer planting and dare I say it... hanging baskets! They were all ordered back in October/November time! A bit like the fashion industry, everything has to be thought out and ordered well in advance of the next season!
Please see our adjacent advert for the hanging baskets and let me know as soon as possible should you wish to place an order. They will comprise easy-care, trailing begonias in pink, red and apricot shades OR you can choose a colourful mix of vibrant trailing geraniums. For those living in Tetbury, they will be delivered to your door by arrangement during the first week in June. All profits raised go towards 'In Bloom' projects. If you purchased our hanging baskets last summer and still have the empty containers, we'd really appreciate their return as soon as possible please, so we can re-use them for this year. Please give me a call on 504213 or email me on sue@tetburyinbloom.org.uk to arrange collection.
In the mean time, weather permitting during these early months, the Tetbury in Bloom team will be out every Tuesday and Thursday morning to keep the flower displays looking their very best. We really do enjoy what we do and gain much satisfaction from knowing that the displays we create and the difference we make, bring such a lot of enjoyment to so many people.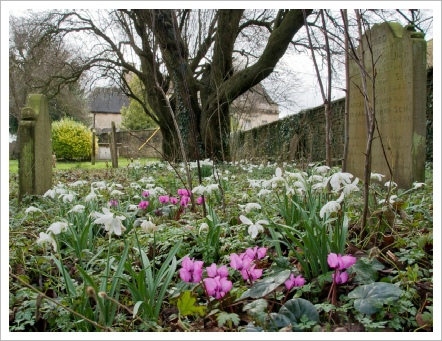 Cyclamen and snowdrops in St Marys' Churchyard


January 2020
There is no Tetbury Advertiser in January