Braybrooke Close Bed 2008 and 2009
The Braybrooke Close Bed Project:
Following the success of the bed at The Knapp it was decided that all the beds throughout the town would be redesigned using in the main sustainable plants. A small quantity of seasonal bedding would be added to carry colour throughout the season. Doing this would reduce the overall amount of maintenance, watering and cost.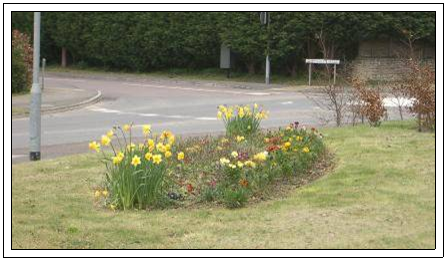 Braybrooke Close bed, Spring 2005 before the make-over
The bed at Braybrooke Close was the second to be planted by the newly formed committee in September 2005. By this time it had been decided to give each bed its own identity and this bed was given the theme 'Spikey'.
Variegated holly, red berberis, colourful phormiums, lavenders, grasses & hellebores were just some of the plants chosen for this bed and looked great for the first few seasons. However, in the harsh winter of 2010, we lost all our phormiums and penstemons in this bed. Initially we re-planted penstemons and replaced the phormiums with the larger variety of golden euonymus giving a hardier way to create the same hit of colour.
In autumn 2012 we planted several hundred crocus to extend the flowering season from February right through to the first frosts and in more recent years, daffodils have been added to the spring display.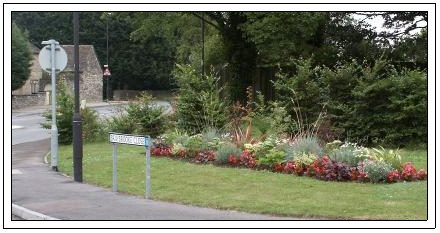 Its first summer, 2006
Spring 2007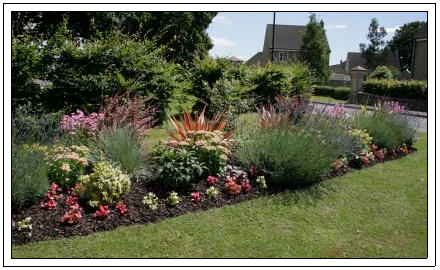 Summer 2007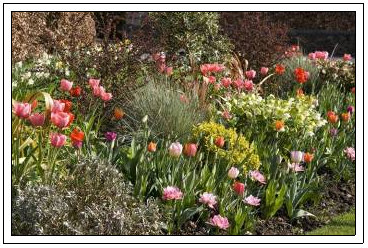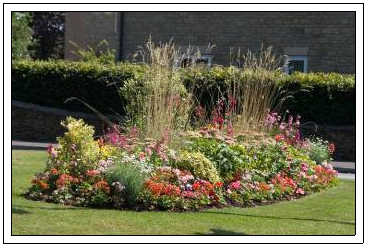 Spring 2009 Summer 2009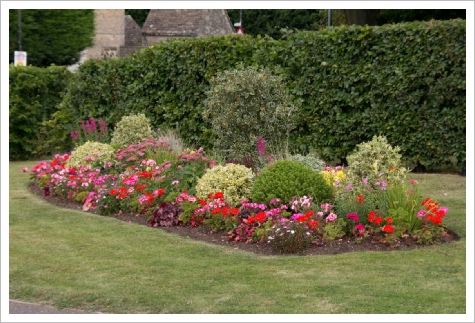 Summer 2011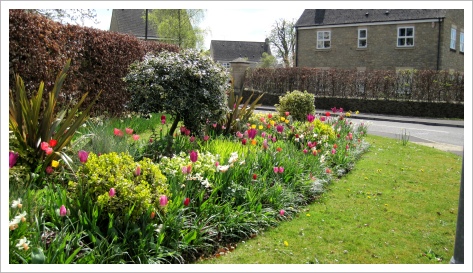 Spring 2017 with the reintroduction of phormiums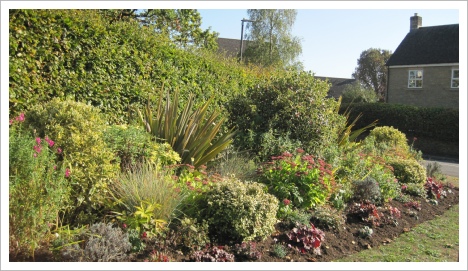 October 2018 with all the bedding plants gone but showing autumn colour with the sedum and penstemons
In Summer 2019 which proved to be another hot summer for a few weeks at least, we decided that however much we tried to keep the bedding geraniums flourishing, they just didn't seem to do well in this bed. This had been happening over the past 3-4 years and although we'd tried several remedies the geraniums always ended up smaller than when they were first planted!. We noticed however that the perennials we'd planted to fill the spaces WERE surviving and doing quite well so, come the end of Summer 2019, we took the decision to make the Braybrooke bed completely sustainable and would no longer use annual bedding to enhance the colour theme throughout the Summer.