December 2018
Tetbury in Bloom – The End of An Era
After over 12 years with Tetbury in Bloom, and 123 articles for the Advertiser, Kevin and I have decided to step aside. I am still working full time in a job that requires me to travel around the country and want to spend my spare time nurturing a talent for painting, not planting!
We wish Sue, Mel and the team all the very best and count ourselves fortunate to have been part of such a "force for good" and having made such wonderful friends.
We are delighted that Tetbury in Bloom does not just focus on making the town look beautiful in the warmer months, or in preparation for one day of judging a year as it did in the early days; it is now also responsible for the Christmas lighting displays and takes pride in ensuring that the town looks beautiful all-year round. One of my final tasks will be to decorate a Christmas tree in Saint Saviours, something I particularly enjoy. Do come along and see if you can spot which one represents Tetbury in Bloom.
Despite the challenges the weather threw at us (a cold winter, dry summer and the recent frosts and wintry showers) there is a lot to be proud of this year, not least keeping the flowerbeds watered, well tended and the geraniums blooming until the end of October and beyond.
A very big thank you to the following individuals and organisations for their support over the past year:
 Pam and Charlie Cleaver, Joan and Mike Kniveton, Debbie Szydlowski & Peter Stafford, Sue and Jeremy Townsend, Judith Randall, Gill Moules, the residents of Lewsey Court and our very own Sue and Charlie Grene, for opening their gardens in support of the eighth Open Gardens Day.
 St Marys' Parochial Church Council, The Feoffees of Tetbury, Tetbury Town Council, Tetbury Upton Parish Council, The Rotary Club Of The South Cotswolds, The Women's Institute, and many residents throughout the town
Kevin and I are honoured to have been associated with such a wonderful organisation for so long and look forward to attending fundraising events as paying guests in future.
Happy Christmas and a Happy New Year.

The Chipping Tree at Christmas


November 2018
Tetbury in Bloom – Supporting Cast
With the removal of the summer bedding, now is the perfect time to think about plants that provide structure and interest in the autumn/winter garden.
The choice of perennials is critical, helping to create shape, add height, give texture and even provide colour during the long, often dull days of winter. Creating gorgeous gardens doesn't need to be difficult. It is easy when you focus on mixing in colourful plants and shrubs, rather than just focusing on the flowers.
Tetbury in Bloom uses a variety of shrubs and herbaceous perennials for their foliage and all year-round interest, including the yellow leafed choisya, golden euonymus, dark leafed heuchera, evergreen penstemons and the various coloured phormiums we use such as the large bronzy-olive variety in London Road, or the smaller green and yellow type in the library, Old Coombe House and Braybrooke. Seed heads and the faded flowers of hydrangeas are another great source of winter interest.
Thank you to the Womens' Institute for their generous donation of the money raised from the sale of teas and savouries at Open Gardens Day. Sue and I were delighted to be asked along to their September meeting to be handed the cheque. It means that our hard work can continue into another year.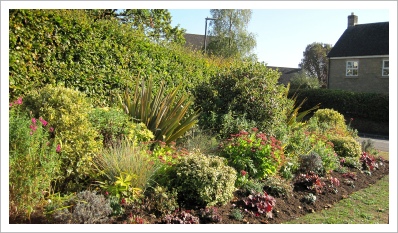 The bed at Braybrooke Close Autumn 2018
October 2018
Tetbury in Bloom – Autumn
The autumn is now definitely here, it feels colder and the days are getting shorter but there is always something to do in the garden.
We are busy removing any remaining summer bedding plants which have struggled on and we are cutting back faded herbaceous perennials, the garden equivalent of "spring cleaning"!
As we approach the end of another successful season, thoughts also turn to improvements that need to be made for the year ahead. We have placed our order for new troughs for the entrances to the town and are reliant on the Council grounds men to install them in October and November before the Tete a Tete spring bulbs start growing again and whilst the box trees are entering their dormant stage. A big thank you to them.
We have found "Amberol" self-watering planters keep the plants well watered, are durable and look good. Their trademark technology comprising a series of high capacity capillary-action wicks "suck" water up from a water reservoir at the base of the planted onto dispersal matting, from which water spreads evenly to the compost overlaying it. Quite remarkable and laboursaving, a blessing when there are flowerbeds and hanging baskets to look after.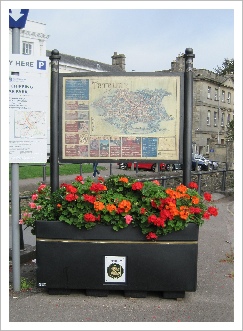 The new trough at Chipping Car Park
September 2018
Tetbury in Bloom – Blooming in the Summer Heat
The hot dry weather was exceptional to say the least and we have the Tetbury in Bloom day team to thank for all their extra hard work watering-in the summer bedding – an average of six hours each per week is quite a commitment, thank you. Without their hard work, the geraniums would not have shone so brightly during this remarkable summer and the flowerbeds would have been parched, like the fields around us.
Unfortunately the weather was not so good for our Open Gardens Day on Sunday 29 July, although farmers and others must have been grateful for the rain. Nevertheless, the gardeners enjoyed themselves and received lots of positive comments and well deserved praise, even more impressive given the conditions they have had to contend with in the many weeks leading up to the event. We had over 120 people visiting the gardens. Many of whom were visitors to the town, some from as far a field as Northampton; with one gentleman coming from Reading with his father (from Japan) in tow. A highlight being a photograph of the ladies of the WI serving an impressive selection of home baked cakes and savouries. Thank you to everyone involved.



One of the gardens open for Open Gardens Day


There is no August edition of the Tetbury Advertiser


July 2018
Tetbury in Bloom –Explore Tetbury's Open Gardens
This year marks eight years of Tetbury in Bloom Open Gardens Day – where has the time gone?
My first experience was as an exhibitor. That year our garden was also host to the "Cutwell Canteen". Mum baked the cakes and served them (with help from the Women's Institute) and I was "front of house". These days life is much simpler. The WI has kindly taken over responsibility for the refreshments – many thanks to them – and we use the beautiful setting of the Market House as our base. Kev is free to take his photographs and I help out where I am needed; with luck I may even get to see some of the gardens for myself.
It is a rare privilege to be invited into private gardens not normally open to the public. Come along on Sunday 29th July (from 1pm to 5pm) to gain inspiration, talk to garden enthusiasts or simply enjoy a wonderful day out, with cake!
This year we have nine gardens; four open to the public for the first time (*) and one after break of a year (**).The £5 entry fee will gain you access to all nine wonderful gardens, it is your decision how many you want to see and how long you wish to linger:
1. 16 Close Gardens GL8 8DU Pam and Charlie Cleaver
2. 3 Newleaze Gardens GL8 8BY Charlie and Sue Grene
3. 14 Courtfield GL8 8LF Mike and Joan Kniveton
4. The Garden House, Northfield Rd GL8 8HD Mary Lennie
5. Lewsey Court, London Road GL8 8GW Residents *
6. 25 Trubshaw Close GL8 8GL Debbie and Peter Stafford*
7. 68 Cirencester Road GL8 8EQ Sue and Jeremy Townsend **
8. 19 Springfields GL8 8EN Judith Randall *
9. 26 Springfields GL8 8EN Gill Moules *
A very big thank you to all the gardeners for opening their gardens on our behalf. All monies raised will be invested in floral and lighting displays for the benefit of all residents of the town.
Tickets are available on the day from inside the Market House or from any of the gardens themselves. For more details, or to download a map in advance, please visit our website www.tetburyinbloom.org.uk. Alternatively, look out for the advertisement in this month's issue of the Advertiser.
We hope that you enjoy the event and look forward to seeing you.

Outside the Market House on the day of the event


June 2018
Tetbury in Bloom – Oh Those Summer Nights!
This month is the busiest for the Tetbury in Bloom team.
Not only do the hanging baskets arrive, with the 'Day Team' delivering them to all the shops and residents that have ordered them but they also take delivery of those that go on the lampposts and assist the Council grounds-men to install them. Around the town, there are 33 flower beds and 42 troughs and tubs to prepare in readiness for the entire 'In Bloom' team to come out each Tuesday and Thursday evening, to help plant up the summer displays. It's a huge operation, which takes the entire month to complete but, the results of adding all the summer bedding, provides an immediate splash of colour that continues right through to the end of summer. I hope you agree it is well worth all the effort.
Historically associated with bold formal displays in public gardens, we use summer bedding less formally, at the front of borders and filling in the bare soil under the many shrubs. It's like painting with plants.
The smell when planting the geraniums, conjures up memories of my Dad, who grew his cuttings on my bedroom windowsill…. Happy memories but not one of my most favourite fragrances! Sturdy, sun-loving geraniums are well suited to hot, dry conditions and flower all summer through to the first frosts – they are the perfect plant for the flowerbeds and tubs in Tetbury.
Begonias are one of the most versatile summer bedding plants, well loved by my Dad for their large flamboyant blooms in a wide range of colours. Because of their ability to thrive in sun or shade, we use large-headed varieties in our hanging baskets and the smaller 'semperflorens' varieties in some of the shadier locations.
Antirrhinums are another family favourite from my childhood. Much loved for their architectural flower spikes and incredibly long flowering period, they add height and interest to a number of Tetbury's flowerbeds.
In next month's issue of the Tetbury Advertiser, look out for our advert regarding the Tetbury Open Gardens Day where eight local gardens will open to the public between 1.00pm and 5.00pm on Sunday 29th July. There will also be more details in my article and nearer the time on our website www.tetburyinbloom.org.uk
Happy gardening.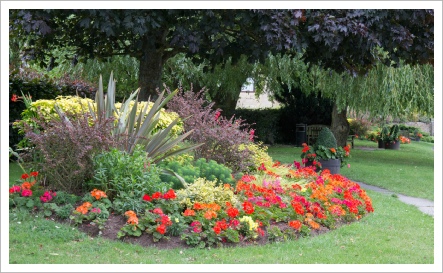 London Road Beds
May 2018
Tetbury in Bloom – Flower Shows
Winter is a distant memory and the world feels full of promise.
For me May conjures up trips to Chelsea and the Malvern Spring Show with my Mum and thoughts of how to introduce lots of colour to the garden.
In my opinion, the flowerbeds at Braybrooke and the Knapp would not look out of place in the Malvern Show's "gardens without boarders", which look beautiful viewed from all angles and throughout the year.
Last month The Anniversary Garden (located between The Ferns and The Chipping) underwent a bit of a makeover. The Town Council funded the relaying of the original path, eliminating all the broken and untidy looking slabs. A third seat, funded by Tetbury in Bloom, was also installed and new metal edging was added along the edges of the formal flowerbeds, giving them a much sharper look. These changes have really improved the overall look of the garden and made it an even more welcoming place to sit and enjoy.
Ahead of planting summer bedding next month, once all threats of frosts have passed, the Tetbury in Bloom team is busy tidying-up the many flower beds. We are removing the fading flower heads from the spring flowering bulbs, narcissus and tulips; this allows the bulbs to reabsorb any nutrients without wasting precious energy creating seeds. It will keep them fed during their dormant period allowing them to flower again with renewed vigour. (We will remove the stalks once they are well withered, to make room for the bedding plants.) Meanwhile, Sue is busy arranging the logistics for next month's deliveries of plants and hanging baskets.
Happy gardening.



Tulips at Braybrooke Close bed
April 2018
Tetbury in Bloom – The Joy of Tulips
When I was very young I remember my parents taking my sister and me to the tulip gardens at Keukenhof, in the Netherlands. Perhaps that is where my love of these bright blousy flowers comes from.
When I think Keukenhof I think of tulips planted in dramatic drifts of the same colour and variety, perhaps interspersed with hyacinths. Personally, I much prefer Tetbury in Bloom's mix of varieties, heights, shapes and colour for those of us with more modest gardens and open spaces to care for. Nowhere can the displays of tulips be better than in the flowerbeds around the town which are also planted with different coloured foliage shrubs and perennials all bursting into life again after a long cold winter. For example, the coppery coloured, new growth, of the spiraea 'gold flame', the dark leafed heucheras, the bright yellow variegated leaves of the euonymus and the fresh new growth of the evergreen choisyas, they all compliment the brilliant colours of the tulips and offer a promise of warmer weather from April onwards.
We leave the bulbs in situ from year-to-year. We just remove the deadheads so the tulip doesn't waste energy trying to make seed and, in June we remove all foliage before mulching with a mix of compost and well-rotted manure and over-planting with summer bedding.
We are still taking orders for our summer hanging baskets which comprise easy-care, trailing begonias in pink, red, orange and apricot shades OR you can choose baskets which comprise a selection of vibrant trailing geraniums. They will be delivered to your door by arrangement during the first week in June; all you need to do is to install them, water them regularly and give them the occasional feed. Details can be found in our adjacent advertisement or on our website www.tetburyinbloom.org.uk All profits raised help go towards In Bloom projects. If you purchased our hanging baskets last summer and still have the empty containers, we'd really appreciate their return as soon as possible please, so we can re-use them this year. Just get in touch with Sue Hirst on 504213 to arrange collection.
We're also still looking for people to open their gardens for the Tetbury Open Gardens Day on Sunday 29th July. If you think you might like to open your garden this year, then please contact Sue Hirst on 504213 so she can come and talk to you and explain what the day entails.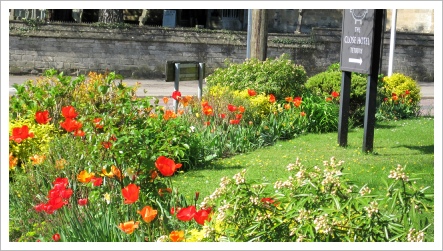 Tulips at Fire station bed


March 2018
Tetbury in Bloom – The Magic of Spring
When I was growing up, at this time of year, we would go hunting for the first sweet violets – you need to be sharp-eyed to spot them. I think it was this that introduced me to the joys of gardening.
Nowadays, nothing reminds me more of spring than the brilliant yellow daffodils in the town's flowerbeds, gardens and verges and the radiant yellow flowers of dwarf narcissus 'Tête á Tête' brimming over in the town centre troughs. It is my favourite time of year.
Thinking ahead, we are now taking orders for our summer hanging baskets which comprise easy-care, trailing begonias in pink, red, orange and apricot shades OR you can choose baskets which comprise a selection of vibrant trailing geraniums. They will be delivered to your door by arrangement during the first week in June; all you need to do is to install them, water them regularly and give them the occasional feed. Details can be found in our adjacent advertisement or on our website www.tetburyinbloom.org.uk All profits raised help go towards In Bloom projects. If you purchased our hanging baskets last summer and still have the empty containers, we'd really appreciate their return as soon as possible please, so we can re-use them for this year.
Thinking even further ahead, other plans for 2018 include Open Gardens Day on Sunday 29th July. If you would like to support us by opening your garden this year, or you have last year's empty hanging baskets for us to collect, then please contact Sue Hirst on 504213.
In the meantime, spring is here – enjoy it!

Tete a Tete and daffodils at London Road beds


February 2018
Tetbury in Bloom – Brighter Days Ahead
I write this article at the start of 2018 when thoughts turn to the year ahead and to keeping New Year resolutions.
Unlike my painting (which I intend to do more of this year) where you get to the point when to continue will only spoils the overall effect, all gardeners know that your garden is never finished, it evolves from season-to-season and year-to-year. As the seasons change different plants take centre stage.
The dainty white flowers of the snowdrop, will soon transform Saint Marys' churchyard. They will shortly be joined by cyclamen and wood anemone, bringing with them a sense of wonder and the promise of the end of winter.
When the snowdrops flower spring cannot be far behind!
Snowdrops are fully hardy. They have evolved especially hardened tips to push through any snow. They can be rather temperamental to grow but appear to enjoy the partial shade and moist soil of the Saint Marys, where they have multiplied into drifts. Any garden will benefit from snowdrops. For the best results plant freshly lifted snowdrops in late spring when the foliage begins to die back. Alternatively buy just after flowering when the leaves are green; this is called "in the green".
Since Tetbury in Bloom "adopted" the churchyard in 2009 we have worked hard to create a balance between the "formal" and "natural" planting schemes. Our work continues. Like you, we look forward to seeing the results of last autumns work to refresh the main flowerbeds. The beautiful blooms of the hardy fuchsias should provide colour throughout the summer and into the autumn.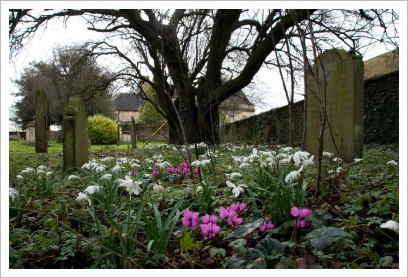 Cyclamen and snowdrops in St Marys' Churchyard
January 2018
There is no Tetbury Advertiser in January